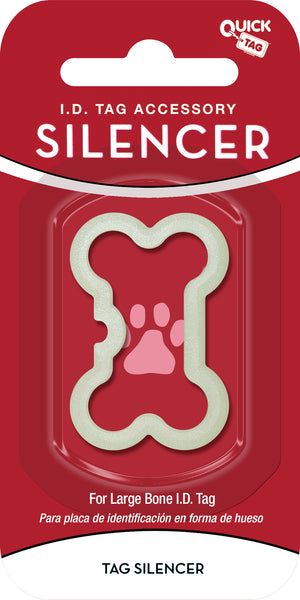 Medium Glow in the Dark Bone Silencer
Add some flair to your pet's tag with a Quick-Tag Medium bone glow-in-the-dark silencer. Illuminates the tag while silencing the jingle. Glow-in-the-dark feature allows tag to be visible and readable even at night or in dim rooms.

Silencers greatly reduce the noise made by your pet's collar tags as they run around, so they don't wake you up in the night or interrupt your daily activities.
Individually packaged.
Customer Reviews
Write a Review
Ask a Question
11/19/2022
Gregory S.

United States
Works but barely fits.
We have had the tag on for almost a month now. It occasionally comes off at the bottom and the dog tag itself is starting to break through the silencer at the top. Also because of how the tag it snapped, it doesn't fit perfectly with the actual dog tag, it more forms a ring around everything.
Hi Gregory, Thank you for your feedback! I'm sorry that the silencer doesn't seem to fit correctly. I am emailing you on a separate email to see if we can be of more help. Thank you! Carin
10/27/2022
Emily

United States
Poor product
I bought two large id tags in a Walmart through quick tag and I needed silencers so I bought them from the same place hoping they would fit. They were VERY small but I tried them anyway. They were way too small for the id tags. Couldn't use them at all. Waste of money
Hi Emily, Thank you for your feedback. I'm sorry about the negative experience. I am sending a message separately to you for more details so we can help with this. Thank you! Sincerely, Carin